Podcast: Play in new window | Download
Subscribe: Apple Podcasts | Google Podcasts | Spotify | Email | RSS | More
In this episode, Mark Sarvary interviewed the new dean of the College of Agriculture and Life Sciences. Dr. Benjamin Houlton began his term on October 1, 2020, as the Ronald P. Lynch Dean of the College of Agriculture and Life Sciences. He is also and a professor in the departments of Ecology and Evolutionary Biology and Global Development.
Hear the story of how Dean Houlton almost received a Cornell Ph.D. and how he works with farmers in both California and in New York state to mitigate the impact of climate change.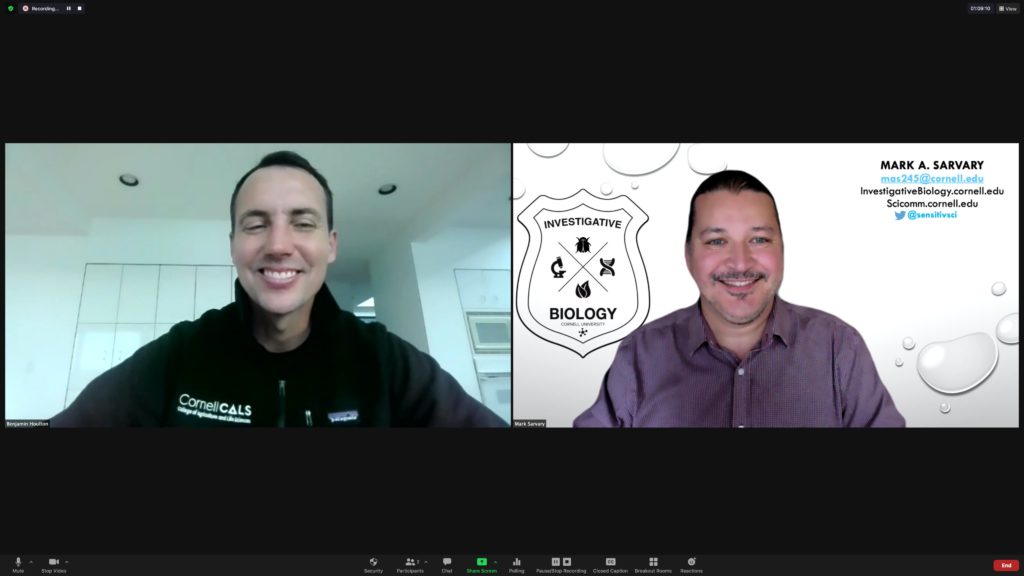 In the second interview, Candice Limper talked to Nancy Ruiz about her research at Cornell University, discussing what Alzheimer's disease is and some of the symptoms. Nancy is a 4th year Ph.D. candidate and is trying to understand what factors contribute to the development of this disease as part of her thesis. During this interview, she describes a mouse model that she uses to understand the molecular mechanisms involved.
In our Locally Birding segment, Kitty Gifford talked about the largest American woodpecker (and used some puns). Kitty mentioned in her segment this recent research: The Re-Establishment of Pileated Woodpeckers in New York City Following Nearly Two Centuries of Extirpation
Thanks for listening and thanks to our contributors:
Producer: Mark Sarvary
Segments: Mark Sarvary, Candice Limper, Kitty Gifford
Music: Joe Lewis